About Jamf
Jamf, the standard for Apple in the enterprise, extends the legendary Apple experience people love to businesses through its software and the 100,000 members of Jamf Nation — the largest community of Apple IT admins in the world.
Partnership with SHI
SHI is an authorised solution provider of Jamf's product and service portfolio, serving: businesses, SHI, a leader in iOS deployment since the introduction of the first iPad in 2010 and has over 20 years of advising customers on Mac solutions. Contact SHI
Apple Enterprise Management: Connect, Manage, Protect
Jamf is the only Apple Enterprise Management solution of scale that automates the entire lifecycle of Apple in the enterprise, including device deployment, management and security, without negatively impacting the end-user experience or requiring IT to touch the device. Enhance productivity and lower support and operational costs by unlocking the power of Apple and Jamf.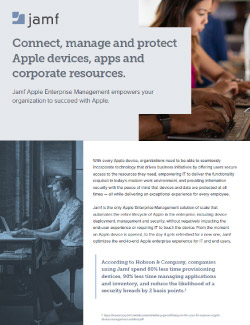 Apple Enterprise Management Overview
Jamf is the only Apple Enterprise Management solution of scale that automates the entire lifecycle of Apple in the Enterprise.

Device Management for IT Pros
Whether you have used Apple for years and have 10,000 users in your organisation, or you are just beginning to integrate Apple devices into your organisation — Jamf and Jamf Pro make management simple, secure and cost effective. IT admins gain peace of mind and users get the experience they want.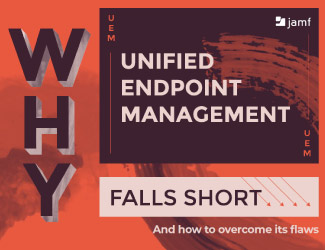 Why UEM falls short….and how to overcome its flaws
Learn how Jamf can help you manage your organisation's Apple devices as an ecosystem.
Give employees the tools they need to have more profound moments at work. Designed to automate device management while driving end-user productivity and creativity, Jamf Pro is the Apple Enterprise Management tool that empowers IT pros and the users they support by delivering best-in-class endpoint management exclusively for Apple devices.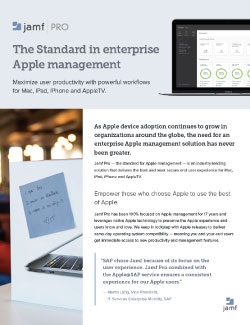 Jamf Pro Overview
Maximise user productivity with powerful workflows for Apple products.

Provisioning and Identity Management
In an increasingly mobile workforce, with employees working from different locations on different devices — organisations must manage and secure devices and their company information. With Jamf Connect, users can unbox their Mac, power it up and access all of their corporate applications after signing on with a single set of cloud-identity credentials.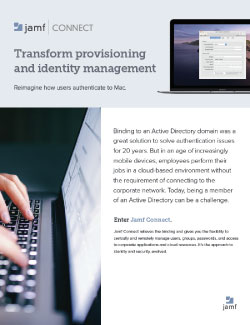 Jamf Connect Overview
Reimagine how users authenticate to Mac devices

Endpoint Protection Built Exclusively for Mac
Leveraging native Apple security tools, Apple's new Endpoint Security framework and on-device analysis of macOS system events, Jamf Protect creates customised telemetry and detections. Giving enterprise security teams unprecedented visibility into their macOS fleet.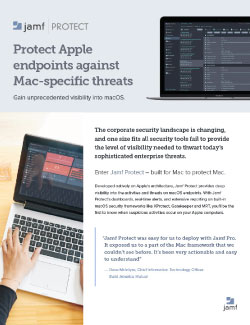 Jamf Protect Overview
Achieve unprecedented visibility into macOS and protect Apple endpoints against threats and malware

Cloud Based Mobility Management
Jamf Now is a cloud-based MDM solution for iPad, iPhone and Mac devices in your workplace. Whether you need a macOS, iOS or iPadOS manager, device management is fast, accessible and affordable. Support your users without requiring dedicated IT.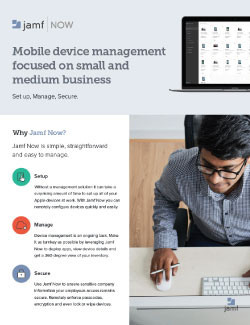 Jamf Now Overview
Simplifying mobile device management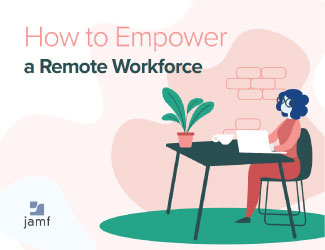 How To Empower a Remote Workforce eBook
Learn how you can successfully onboard remote staff and securely connect employees to resources regardless of their location.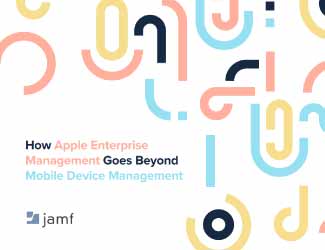 How Apple Enterprise Management Goes Beyond MDM
Jamf is the only Apple Enterprise Management solution of scale that automates the entire lifecycle of Apple in the Enterprise.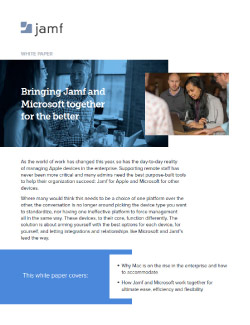 Bringing Jamf and Microsoft Together For the Better
Find out how Jamf and Microsoft work together for ultimate ease, efficiency and flexibility on the Mac.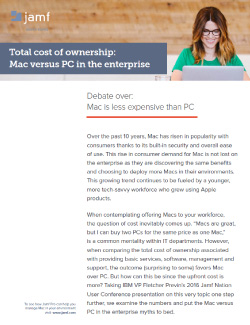 Total Cost of Ownership: Mac vs PC – White Paper
Learn about the ROI you can expect when leveraging Jamf Pro to manage your Apple fleet.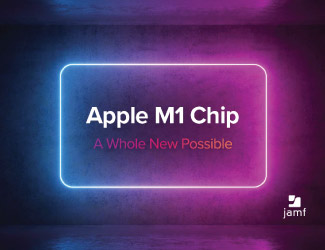 Apple M1 Chip – A Whole New Possible
Learn more about how Apple's M1 chip will drive industry transformation in the Enterprise.
Ready to Learn More?
Contact us to discuss Jamf solutions for your organisation.