SMART UPS 1000VA LCD RM 2U 120VWITH SMARTCONNECT
---
---
Mfr Part #:
Copied To Clipboard
Click To Copy
SHI Part #:
Copied To Clipboard
Click To Copy
SMART UPS 1000VA LCD RM 2U 120VWITH SMARTCONNECT
Additional Details
Price:
€676.00
MSRP:
€837.00
Mfr Part #:
SMT1000RM2UC
SHI Part #:
34413332
Category:
Rechargeable batteries
UNSPSC:
26111701
Manufacturer:
APC by Schneider Electric
Product Type:
Hardware
Network Cables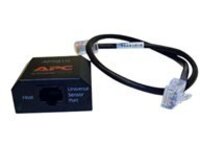 Network adapter kit
black
for P/N: AP9641, AP9643, SMTL1000RMI2UC, SMTL750RMI2UC, SRT1500XLJ, SRT2400XLJ, SRT8KXLJ
Network Interface Cards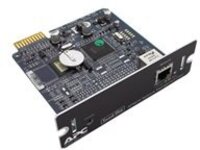 Remote management adapter
SmartSlot
10/100 Ethernet
black
for Smart-UPS X
General Information
Category
Rechargeable batteries
Description
SMART UPS 1000VA LCD RM 2U 120VWITH SMARTCONNECT
Manufacturer
APC by Schneider Electric
MSRP
€837.00
UNSPSC
26111701
Main Specifications
Dimensions & Weight / Depth
47.7 cm
Dimensions & Weight / Height
8.6 cm
Dimensions & Weight / Weight
25.3 g
Dimensions & Weight / Width
43.2 cm
General / Subcategory
UPS
Header / Brand
APC
Miscellaneous / Product Color
Black
Networking / Remote Management Interface
USB
Packaged Quantity
1
Power Device / Form Factor
Rack-mountable
Power Device / Output Connector Qty
6
Power Device / Power Capacity (VA)
1000 VA
Power Device / UPS Technology
Line interactive
Power Device / Voltage Required
AC 120 V
Product Type
UPS
Service & Support / Type
3-year warranty
Battery
Features
Maintenance free, sealed, leak-proof
Quantity
1
Recharge Time
3 hours
Run Time (Up To)
8 min at full load ¦ 30 min at half load ¦ 253 min at 50 Watts ¦ 140 min at 100 Watts ¦ 65 min at 200 Watts ¦ 38 min at 300 Watts ¦ 24 min at 400 Watts ¦ 16 min at 500 Watts ¦ 11 min at 600 Watts
Technology
Lead acid
Compatibility Information
Designed For
P/N: ACCS1000, ACCS1001, ACCS1002, ACCS1003, ACCS1004, ACCS1005, ACCS1006, ACCS1007, ACDC1015, ACDC1016, ACDC1017, ACDC1019, ACDC1020, ACDC1021, ACDC2513, ACF001, ACF002, ACF003, ACF101BLK, ACF102BLK, ACF201BLK, ACF400, ACF600, AP5017, AP5602, AP5606, AP5607, AP5616, AP92200, AP9290, AR100, AR100HD, AR202, AR203A, AR204A, AR2101, AR2102BLK, AR2144BLK, AR2145BLK, AR2200, AR2280, AR2400, AR2400FP1, AR2401, AR2407, AR2480, AR2487, AR2487G, AR2500, AR2507, AR2580, AR2587, AR2900, AR2901, AR3000, AR3100, AR3100G, AR3100SP, AR3100SP1, AR3100SP2, AR3100TAA, AR3100W, AR3100X609, AR3100X610, AR3100X617, AR3101, AR3104, AR3104SP1, AR3105, AR3105SP, AR3105W, AR3107, AR3107G, AR3107SP, AR3107X609, AR3107X610, AR3107X617, AR3130, AR3140, AR3140G, AR3140W, AR3150, AR3150SP, AR3150SP1, AR3150SP2, AR3150W, AR3150X609, AR3150X610, AR3150X617, AR3155, AR3155SP, AR3155W, AR3157, AR3157SP, AR3157X609, AR3157X610, AR3157X617, AR3200, AR3300, AR3300G, AR3300SP, AR3300W, AR3300X609, AR3300X610, AR3300X617, AR3305, AR3305SP, AR3305W, AR3307, AR3307SP, AR3307W, AR3307X609, AR3307X610, AR3307X617, AR3340, AR3340G, AR3340W, AR3347, AR3350, AR3350SP, AR3350W, AR3350X609, AR3350X610, AR3350X617, AR3355, AR3355SP, AR3355W, AR3357, AR3357SP, AR3357X609, AR3357X610, AR3357X617, AR4018, AR4018A, AR4018I, AR4018IA, AR4018IX429, AR4018IX431, AR4018IX432, AR4018SP, AR4018SPX429, AR4018SPX431, AR4018SPX432, AR4018X429, AR4018X431, AR4018X432, AR4024, AR4024A, AR4024I, AR4024IA, AR4024IX429, AR4024IX431, AR4024IX432, AR4024SP, AR4024SPX429, AR4024SPX431, AR4024SPX432, AR4024X429, AR4024X431, AR4024X432, AR4038, AR4038A, AR4038I, AR4038IA, AR4038IX429, AR4038IX431, AR4038IX432, AR4038X429, AR4038X431, AR4038X432, AR7007, AR7050, AR7057, NBWL0356A, SCL500RM1UNC, SMX2000LV, SMX2000LVNC, SMX3000HVTUS
Dimensions & Weight
Depth
47.7 cm
Height
8.6 cm
Weight
25.3 g
Width
43.2 cm
Dimensions & Weight (Shipping)
Shipping Depth
61 cm
Shipping Height
23.5 cm
Shipping Weight
30.92 kg
Shipping Width
59 cm
Environmental Parameters
Humidity Range Operating
0 - 95%
Max Operating Temperature
40 °C
Min Operating Temperature
0 °C
Sound Emission
41 dBA
Environmental Standards
ENERGY STAR
Yes
Expansion / Connectivity
Expansion Slots
1 (total) / 1 (free) x SmartSlot
Interfaces
1 x management (USB) - 4 pin USB Type B
General
Bundled with
APC SmartConnect
Color
Black
Device Type
UPS - rack-mountable
Height (Rack Units)
2U
Manufacturer Warranty
Service & Support
Limited warranty - replace or repair - 3 years ¦ Limited warranty - batteries - 2 years
Miscellaneous
Cables Included
Serial cable - external ¦ USB cable - external ¦ Power cable - integrated - 2.44 m
Compliant Standards
CSA, ICES-003, UL 1449, UL 1778, FCC Part 15 B, CSA C22.2 No. 107.1, RoHS, REACH
Equipment Protection Value
150000 US Dollars
Features
Audible alarm, LCD display, Automatic Voltage Regulation (AVR), LED indicators, cold-start function, automatic self-test, hot-swappable batteries, energy meter
Rack Mounting Kit
Included
Networking
Remote Management Interface
USB
Power Device
Circuit Protection
Circuit breaker
Efficiency
98.2% at 75% Load, 96.2% at 25% Load, 97.8% at 50% Load, 98.3% at 100% Load
Frequency Provided
50/60 Hz
Frequency Required
50/60 Hz
Input Connectors
1 x power NEMA 5-15P
Input Voltage
AC 120 V
Input Voltage Range
AC 82 - 144 V
Input Voltage Range (Adjustable)
AC 75 - 154 V
Output Voltage
AC 120 V ± 5% - 50/60 Hz
Output Waveform
Sinewave
Power Capacity
700 Watt / 1000 VA
Power Output Connectors Details
6 x power NEMA 5-15
Surge Energy Rating
680 Joules
Surge Suppression
Yes
UPS Technology
Line interactive
Software / System Requirements
Software Included
Drivers & Utilities
These links will open documents stored on other websites. SHI does not own this content.